Article Source: IMechE
The fifth generation of mobile internet will bring endless possibilities for engineers (Credit: Shutterstock)
Drones inspecting bridges, wind turbines and tunnels were once a flight of fancy for the engineering sector, but now they're helping the profession to reach new heights.
"You've got moving parts and you can be surrounded by hazardous materials and machinery. If the risk of sending someone up scaffolding or underground to inspect the tiniest of cracks can be offset by technology, then this can only be a good thing," says Tariq Ahmed, a mechanical engineer who has worked on several large infrastructure projects in the UK and the Middle East.
A drone flown close to a structure will use a combination of high-resolution photography and light detection and ranging (lidar) and thermal detection instruments to spot erosion, cracks in pipes and hidden water leaks.
While this is safer than sending an engineer to carry out an inspection, there can be delays in the transmission of the data.
"Most drones use SD cards. Generally, the drone operator will have to upload it to cloud software where technicians and engineers can then access the data remotely, so they can analyse it and make the necessary maintenance decisions. This could take 5 to 10 minutes or it could take 30 to 45 minutes, it depends on how much footage you've got," says Ahmed. "But when you're talking about structural safety, you'd rather there wasn't any delay at all."
Step forward 5G. The successor to 4G is expected to give rise to a swathe of connected drones that will be able to transmit data and high-definition footage wirelessly in a matter of single-digit milliseconds. Or at least that's the hope.
In reality, it may be some time before drones are flown on cellular networks. According to the mobile telecommunications trade body, the GSM Association, regulators will need to provide unmanned aerial vehicles (UAVs) with access to spectrum. Licensing mobile spectrum, it argues, will help to support connectivity as UAV usage levels increase.
There's also the issue of consistency. A paper by Sebastian Euler, a researcher at Ericsson, shows that cellular networks can safely support the connectivity of UAVs up to an altitude of around 120m. However, a group of researchers from the University of Klagenfurt, Austria, and Lakeside Labs have found that a 5G connection will often drop to 4G and that upload speeds weren't always faster on 5G. Presenting their findings in a paper published in April, they concluded that the drop off in signal strength happened more frequently at 100m than at 30m.
To put this into context, if an engineering team were to fly a drone on a 5G cellular network tomorrow to transmit live footage of a bridge being built, then they'd likely experience low transfer rates – far from ideal.
The good news is that, as 5G is deployed more widely, the upgrades to the infrastructure that are required will iron out any problems due to latency.
New opportunities
The fifth generation of mobile internet connectivity has been in the news a fair bit. Unfortunately, this has less to do with any excitement surrounding the technology and more to do with health concerns.
To cope with the demand for 5G and to deliver a consistent and strong signal, more base stations and mobile masts will have to be installed. Conspiracy theorists are convinced that the radiation emitted by 5G technology is accelerating the spread of the Covid-19 virus and a number of stations and masts have been going up in flames as a result.
Media regulator Ofcom has carried out safety tests in the UK that show that 5G base stations' emissions are just "tiny fractions" of the level that's deemed safe.
The conspiracy theories detract from the technology's real potential: that it will improve all parts of life and work, from making kitchen gadgets smarter to eliminating the lag when gaming online to optimising production of goods in factories.
"5G is going to help mould a new era of internet-enabled intelligence, leaving no product or industry untouched. The higher bandwidth and low latency will transform existing applications and is likely to create new ones that we haven't yet imagined," says Shawn Carpenter, senior product manager at Ansys, a provider of engineering simulation and 3D design software.
Carpenter points towards the automotive industry as one of the likely key beneficiaries of 5G.
"Existing networks aren't sufficient, especially for wide-scale roll-out of vehicleto-vehicle [and vehicle-to-infrastructure] communication," says Carpenter. "Exchanging data en route and at speed demands connectivity more advanced than 4G can cope with."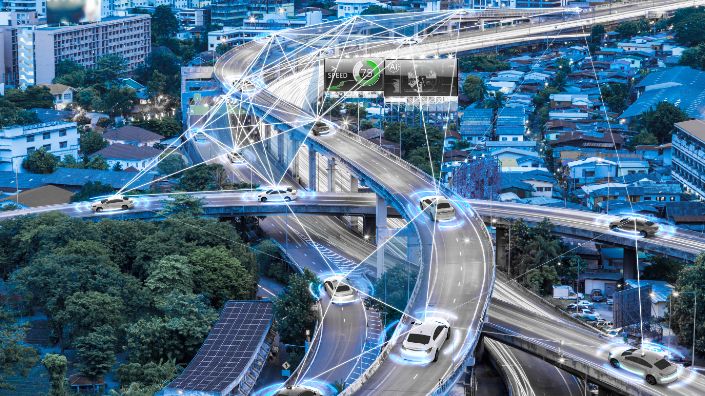 (Credit: Shutterstock)
With 4G, the latency tends to run to between 20 and 50 milliseconds; with 5G the time it takes for a data signal to be sent and then arrive is around 10 milliseconds and, sometimes, as quick as one millisecond. With some consumer applications, the change in latency might be indistinguishable, but in mission-critical situations – such as an autonomous vehicle braking in the event of an accident – every millisecond makes a difference.
As 5G is rolled out, Carpenter expects to see development of vehicle-related innovations ramp up, which will create new opportunities for engineers. Last year, Uber partnered with mobile network provider AT&T to explore how 5G can help turn the concept of a flying taxi from a pie in the sky to a tangible possibility.
Given the safety concerns about autonomous and futuristic vehicles, 5G will have to pass stringent testing and validation, though. "The speed and effectiveness of this testing and validation will be key to companies and their engineers getting the edge," argues Carpenter.
Beyond the automotive industry, 5G will enable engineers to develop faster and smarter devices for other professions, including dentists and surgeons. For example, the healthcare industry will be able to carry out more intricate operations using 5G-powered haptic gloves without a surgeon needing to be in the theatre – the gloves would be connected to a robotic intermediary.
Remote operations
Super-fast data connections and download speeds and reduced latency are a major part of the allure of 5G, but there's more to the technology than this. It'll support companies and engineering teams to collaborate more flexibly.
"When you've got half your team in an office and the other half off-site, communication is definitely a headache. Yes, you can use messaging channels like Slack, but you often need to share files either by cloud software or email," says Ahmed. "The process is clunky and inefficient. Sometimes it feels like you're not operating at your full capacity."
Ahmed is convinced that, once 5G has been rolled out, companies and engineering teams will no longer be held back. Instantaneous access to data and information will mean greater collaboration and better decision-making.
Marek Suchocki, Autodesk's infrastructure industry engagement lead, agrees. He cites the example of building information modelling (BIM) and says that, with many stakeholders involved in a construction project, 5G will be able to streamline the capturing and sharing of data.
Better design decisions
Combined with sensors, artificial intelligence, machine learning and cloud computing, 5G-powered BIM promises to be able to improve project delivery and design decisions being made, reducing the likelihood of engineering faults occurring and material being wasted. Stakeholders will be able to collaborate on, and interact with, a model – potentially in virtual reality – in real time without needing to be in the same room.
Suchocki adds that, given the coronavirus situation, companies in the architecture, engineering and construction sectors should be well prepared for the remote working opportunities 5G will present once it has been rolled out.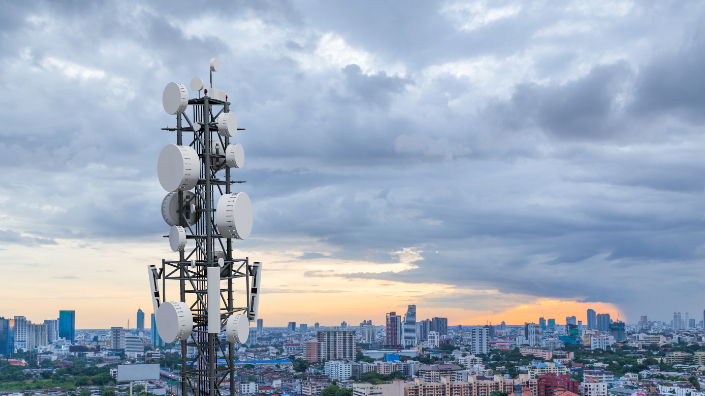 (Credit: Shutterstock)
"The world is learning to adapt to the impact of the Covid-19 pandemic and the changes it's bringing about. These sectors will already be leveraging new ways of working and will be re-adapting in order to meet anticipated, increased demand [on operations] in the future," he says.
Delivering on promises
While there has arguably never been a time like the present for companies to realise the potential of remote working, they shouldn't get ahead of themselves. With many 5G auctions – their purpose is to sell off spectrum to mobile operators – still to take place, it will be a few years before 5G is widely available around the world.
Some auctions in Europe have even been delayed owing to Covid-19, while Vodafone in the UK asked the government to cancel an upcoming auction and split the spectrum between mobile network operators at a cheaper rate. This, it argued, would help the networks to cope with the unprecedented demand being placed on them by millions working from home.
Even once spectrum has been allocated, designers and engineers will need to ensure that 5G can live up to its hype. Carpenter believes that multiphysics simulation of 5G infrastructure will be key to this, especially addressing early design exploration challenges.
"Simulating 5G radio and related technologies by analysing electromagnetics, semiconductors and electronics cooling is a critical enabler," says Carpenter. "By adopting multiphysics simulation, you can reduce the time it takes to develop and deploy the kind of 5G infrastructure, including base station antennas, that will be needed."
Tools, such as simulation-based digital twins, he adds, will be crucial in providing engineers with operational insight, reducing the number of maintenance events and helping 5G infrastructure to deliver a consistent signal.
Although 5G is only in its infancy, research is already under way in China into the sixth generation of mobile internet connectivity. It's tipped to be launched commercially in 2030, but it could be that many of the endless possibilities of 5G won't have been realised until towards the end of the next decade.
"The University of Surrey has forecast that 5G might only hit its peak in 2038, so there's plenty of time to explore its potential," says Suchocki. "Identifying how to exploit the technology to maximise the benefits might be the biggest challenge."
---
Want the best engineering stories delivered straight to your inbox? The Professional Engineering newsletter gives you vital updates on the most cutting-edge engineering and exciting new job opportunities. To sign up, click here.
Content published by Professional Engineering does not necessarily represent the views of the Institution of Mechanical Engineers.