Article Source: Future Worlds
Graham Stuart MP, Minister for Investment at the Department for International Trade, visited the Future Worlds stand at CES, the world's largest and most influential tech show.
The visit came on the same day as the publication of two CityAM articles focused on the Minister's visit to CES, in which he specifically highlighted the Future Worlds startups exhibiting.Graham Stuart MP✔@grahamstuart
My piece in @CityAM today about the

's position in Europe

as the leading tech superpower and why I'm leading a delegation of innovative British tech businesses to #CES2020 this year.

Read it here

https://bit.ly/2tIhk52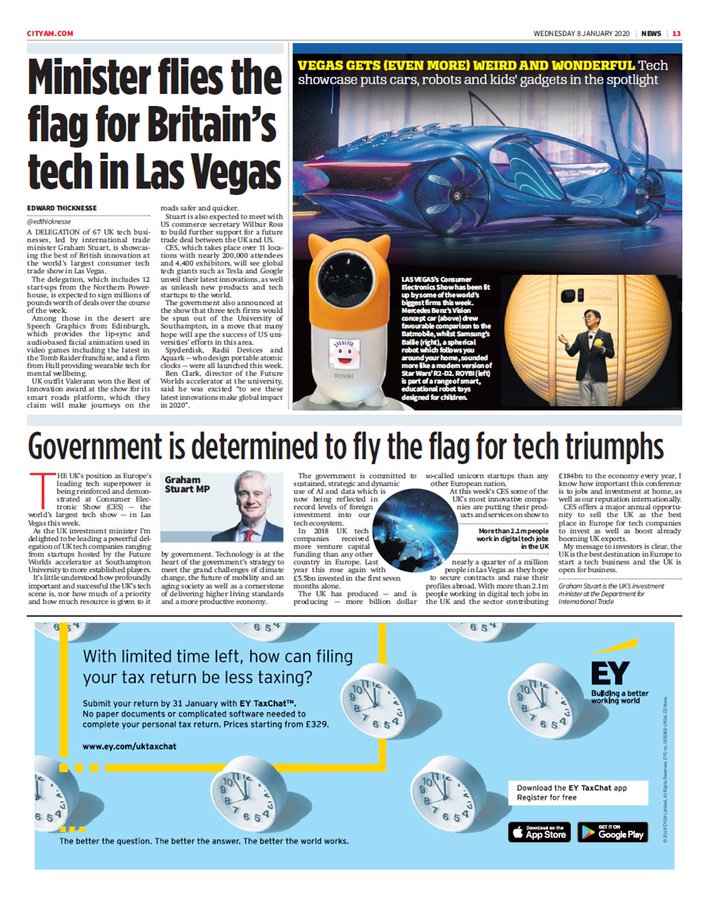 22Twitter Ads info and privacySee Graham Stuart MP's other Tweets
Speaking ahead of the event, Mr Stuart said: "The UK's scientists and universities are renowned the world over. Future Worlds at the University of Southampton is a great example of how we plan to turn more of our university innovation into products and services that can change the world.
"Launching groundbreaking university startups and spinouts at CES reflects the UK's increasing investment in research and development and helps fulfil our ambition to grow as a global, trading nation."
The Minister spent time with each of the University startups launching their innovations at CES during the week, along with a group discussion. He shared his own experience of founding a publishing startup as a student, a venture which he remains involved in today.
Dr Andrei Dragomir demonstrated Aquark Technologies' world-first miniaturised quantum cold atom trap, and explained the range of applications it holds.Aquark Technologies@AquarkT
It was great to meet @grahamstuart and get the chance to talk with him about quantum technologies research and future applications! #futureworlds #ces2020 #quantumtechnology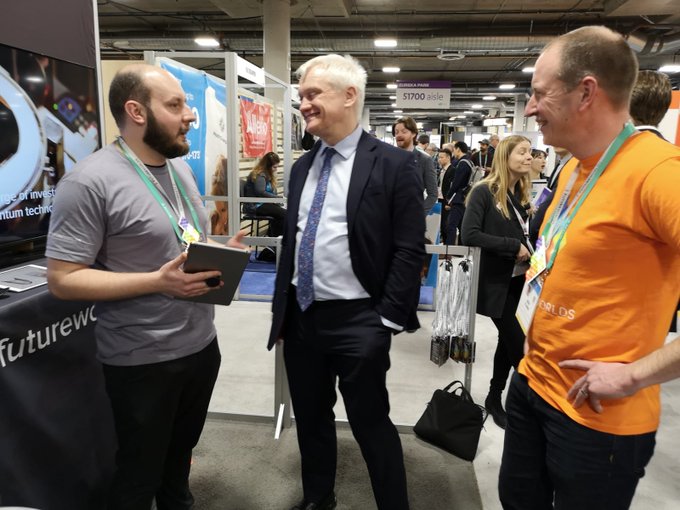 6Twitter Ads info and privacySee Aquark Technologies's other Tweets
Dr Joshua Steer explained how his software is enabling clinicians to deliver accurate socket fit for people with lower limb amputations.Radii Devices@RadiiDevices
Great to chat with @grahamstuart, UK Minister for Investment, about our software to improve prosthetic fit, the inspirational Douglas Bader, and the importance of funding and support from the likes of @EPSRC, @RAEng_Hub and @FutureWorlds for high tech University startups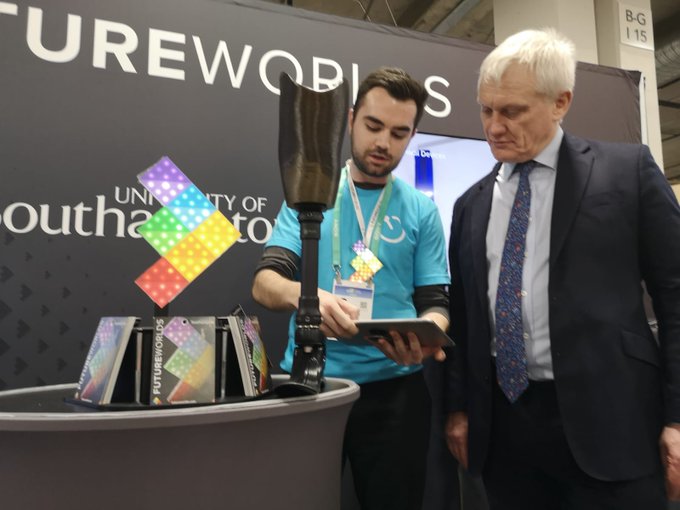 14Twitter Ads info and privacySee Radii Devices's other Tweets
And the founders of SPYDERISK discussed the scale of cyber-security threats and how their solution can reduce the burden of risk assessment for enterprise IT systems.SPYDERISK@SPYDERISK
Thanks to @grahamstuart the UK Minister for Investment for spending so much time today at #CES2020 discussing our automated risk assessment solution for enterprise IT@CyberASAP @KTNUK @tradegovuk#cybersecurity @FutureWorlds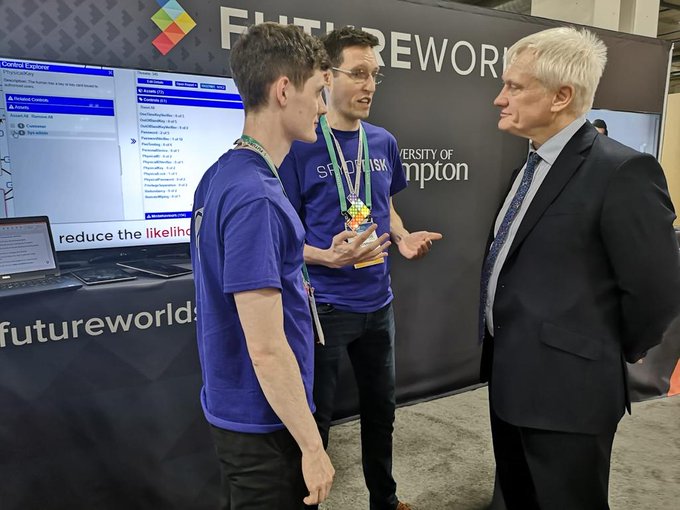 3Twitter Ads info and privacySee SPYDERISK's other Tweets
Having met three impressive University startups, the Minister was full of praise for each of the startups along with Future Worlds and the University of Southampton for showcasing technological innovations on the world stage. For the Minister, in order to meet the UK's productivity challenges, it is essential that we capitalise on our excellent University research.
You can learn more about the startups exhibiting with Future Worlds at CES here and read our daily blogs from the show here.
Find Future Worlds at booths 51733 and 51735 of Eureka Park in the Sands Expo.
For full press information and launch details of our startups at CES 2020 visit futureworlds.com/press
You can follow all the action from the Future Worlds stand on social media and in the daily blog in our News section all this week. The Future Worlds stand at CES is supported by funding from the Engineering and Physical Sciences Research Council (EPSRC)