Article Source: Fawley Waterside
The first explosive event for the demolition of Fawley Power Station took place on Thursday 3rd October at 10.00am. The event saw the roof of the Turbine Hall and the entirety of the De-Aerator Building collapse into the Turbine Hall basement.
From 9.00am an exclusion zone was enforced around the site. Sentries and the police marked the exclusion zone boundary and temporarily restricted any access. Drone footage of the event can be seen below:
Aldred Drummond, Chief Executive of Fawley Waterside Limited:
"This first explosive event marks the end of an era. 60 years ago this site was developed from mudflats into the world's most efficient oil fired power station. A totem of human ingenuity, supposedly a triumph over nature through the might of fossil fuelled power. A notably impressive building that served its purpose. Now a gentler transition is planned by replacing the monumental Power Station with one of the most beautiful small towns in England".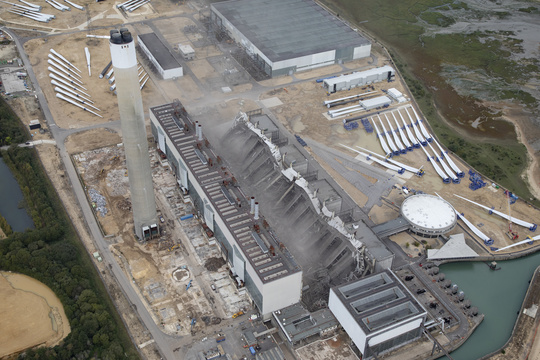 Views of the Power Station after the first explosive event on Thursday 3rd October 2019.
Fawley Waterside held two public information sessions in Calshot and Fawley Village to inform residents of the demolition process. These were attended by nearly 100 people. Relevant stakeholders and landowners were also readily informed. Those residents adjacent or in close proximity to the site were informed of the date and time of the first explosive event one week before.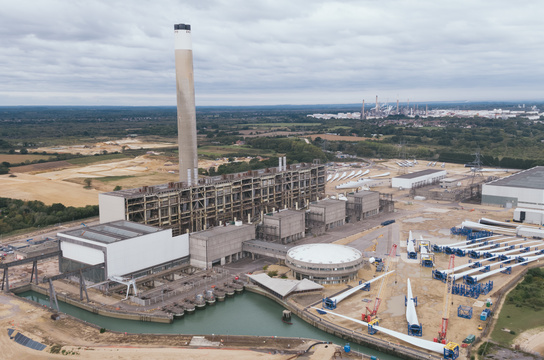 In 2016 Brown and Mason, as principal demolition contractor, were appointed to carry out demolition of the Fawley Power Station site. The first stage of their work included the strip out of machinery from inside the main buildings and the clearing of infrastructure around the chimney. This took just over two years to complete.
In January 2019 Fawley Waterside submitted an application for Prior Notification of Demolition to New Forest District Council as part of the continued management of the former Power Station site. This application covered the dismantling, removal and site clearance of buildings followed by remediation. It was approved in May and in June, Brown and Mason began preparation for demolition of the main buildings including the Turbine Hall, De-Aerator Building, Boiler House, Chimney and Administration Building. The application includes three explosive events over a two-year period. Demolition is estimated to be complete by 2021.