Article Source: IMechE
Planes are getting smaller, faster and more efficient – we went to the Paris Air Show to find out how.
We'll have more planes, but they'll be smaller
magniX says the Eviation Alice could achieve commercially viable electric flight (Credit: magniX)
Roei Ganzarski is a proud risk taker. "We're taking the risk in saying it can be done, but saying it can't be done? That's easy."
The task at hand is commercially viable electric flight. Naysayers are everywhere in the aerospace sector and even here, at the Paris Air Show. The industry is obsessed by efficiency and fighting for its credentials as a viable means of mass transport but – barring a stunning breakthrough in battery energy density – fossil fuels are expected to power the upcoming aviation boom.
"The experts in this field, when they think about electric aviation, say 'there's not enough batteries for a 737'. I agree. 'There's not enough batteries for a Dash 8 [regional turboprop plane].' I also agree. But that's not the range we're going after," says Ganzarski, CEO of magniX. Instead, the Australian company is pursuing 'middle mile' and short routes with two wildly different small aircraft powered by its high-power-density electric motors.
The first is the Beaver, a five-passenger seaplane being upgraded with magniX's 560kW magni500 motor ahead of its first flight in November. The aircraft is a "phenomenal platform," says Ganzarski, and the retrofit should be quick thanks to previous certification.
The drawback? Beavers take roughly 900kg of fuel, so they can take 900kg of batteries. That will give a range of just 160km (100 miles), with 160km in reserve – much shorter than the 732km (455 miles) offered by aviation fuel.
The other aircraft is an entirely different proposition. MagniX is working with Israeli company Eviation Aircraft on the Alice, a 'clean sheet' aircraft that will reportedly fly nine passengers up to 1,046km (650 miles) with energy left in reserve, thanks to 3.8 tonnes of batteries powering three 280kW motors.
MagniX did not invent the electric motor, says Ganzarski, but it has optimised a few key elements. Its motors' base speed is 1,900rpm – the same speed as a turbo-propeller, meaning no gearbox is needed and saving a lot of weight. They are liquid-cooled, but reportedly without a huge weight penalty thanks to an integrated liquid cooling system in the motors and inverter in a single, closed loop. They are also highly maintainable thanks to a replaceable and configurable design, says the CEO.
"Even though the electric motor hardly requires any maintenance, faults will happen. You will get, at some point, a lightning strike. You will get, at some point, a short-circuit." With less complex conventional designs podded as single units, that would mean replacing an entire motor. Operators using magniX-powered planes will instead be able to replace individual coils or magnets.
In flight, "graceful degradation" will apparently replace the hysterical panic of engine failure. Each motor has four three-phase sections, meaning a short-circuit only affects a quarter of its total power – plenty to keep flying, especially with two or more motors.
Ganzarski readily admits that electric motors cannot power every route. Nonetheless, he says, 45% of airline flights are less than 805km (500 miles). Operators use large, relatively inefficient Boeings, Airbuses and Bombardiers that are specialised for much longer flights. A Boeing 777-300 reaches peak efficiency at about 5,600km, for example.
Bigger planes have also pushed airlines away from shorter local routes – and in the process shattered connections between remote communities, says Ganzarski. MagniX hopes to offer an alternative, introducing many more small electric planes than there are currently large aircraft. The ultimate goal is nothing less than "increasing prosperity by connecting communities" – alongside the massive reduction in environmental impact.
Supersonic flights could be carbon-neutral
The Overture airliner could be the first ever aeroplane to make a carbon neutral supersonic flight (Credit: Boom Supersonic)
Eco-friendly propeller flight is one thing. Carbon-neutral supersonic flight, on the other hand…
Boom Supersonic recently completed stationary testing of its two-seater supersonic prototype XB-1 and is developing the 55-seater Overture airliner, aiming to bring supersonic commercial flight back for the first time since Concorde. The room was packed for its Paris press conference.
"It's not good enough to just match the fuel efficiency and emissions profiles of current business class, which is the baseline. We have to find a way to actually improve upon it," says Boom founder and CEO Blake Scholl. To find those improvements, Scholl says the company will work with Prometheus Fuels. The fuel company remains secretive but according to Bloomberg it uses renewable energy to absorb carbon from the air and convert it into petrol, diesel and jet fuel. It reportedly uses carbon nanotubes to separate chemicals relatively cheaply.
Boom will use Prometheus fuel for its XB-1 flight test programme, its first ever application in aviation. "We will have history's first zero-net-carbon – literally zero-carbon footprint – supersonic flight," says Scholl. The company also said it will work with Prometheus to scale up its technology and get it through certification "so it can also be part of the future for Overture," raising the possibility of zero-carbon commercial supersonic flight.
Such an ambitious aim means the rest of the aircraft must be whittled down to its lightest and most efficient – a job, perhaps, for 3D printing. Boom signed a seven-year partnership extension with Stratasys on the first day of the air show, and the Israeli company's additive manufacturing expertise could bring major weight benefits for the Overture.
Scott Sevcik, Stratasys head of manufacturing solutions, shows booth visitors a 3D-printed business cabin. A cross-section reveals the organic-looking supporting beams inside a generatively-designed dividing wall. Topology optimisation lets engineers redesign for aspects that cannot be tooled, says Sevcik, and material replacement saves more weight. He mentions a 35% weight saving for a part built with "very conservative" safety factors but predicts reductions of up to 70% after certification.
Boom can also benefit from 3D printing's swift prototyping and customisation, says Sevcik.
The company aims to fly the Overture in the mid-2020s. It has a predicted top speed of Mach 2.2 (2,695km/h), potentially flying from New York to London in three-and-a-quarter hours.
Propellers will be everywhere
Distributed electric propulsion could have numerous advantages
Scale models are everywhere you look in the show's cavernous halls, offering a glimpse of everything from Italian high-altitude solar airships to 'personal aviation' boards with ducted fans. One of the most eye-catching was a regional aircraft concept from the German Aerospace Centre (DLR), featuring a preposterous number of propellers along its wings.
"The distributed blades have a few advantages," says DLR researcher Martin Bauer. "For example, in aerodynamics, if we have propellers along the whole span of the wing, we can increase the velocity on the wing and then we have higher lift. If we have higher lift, we can reduce the surface of the wing. It means we can have a more efficient aeroplane in cruise flight."
The propellers could control yaw or roll motion, Bauer says, reducing control surfaces, potentially preventing vortex formation and cutting weight further. They could also help reduce noise if run at different speeds, preventing constructive interference from the dissipating sound waves as they cross over.
The next step for the DLR research is high-fidelity computing to understand interactions between propellers and wing, then optimisation of propeller diameter, numbers and more. The centre could then collaborate with companies on small aircraft to demonstrate the technology, aiming to ultimately reduce emissions and costs.
So, is this the future of flight? "It is maybe the only possibility," says Bauer. "Conventional airplanes that you can see here at the Paris Air Show, outside with two engines, the potential is not there because it is almost an optimised solution. Here, we have so many new possibilities… I hope this is the future."
Maybe not for some time, however – the DLR predicts implementation after 2050, "depending on the energy-storage concept".
Europe's future fighter will have robotic wingmen
A full-scale model of the European Next Generation Fighter was unveiled at the show
While this year's show had the strongest ever focus on efficiency, electric flight and alternative fuels, not all the exhibited technology had such noble purposes. Details of some of the most hotly anticipated fighter jets were unveiled, including a full-scale model of the German, French and Spanish Next Generation Fighter (NGF) from Airbus and Dassault Aviation. The NGF is part of the Future Combat Air System, connected to a swarm of 'remote carrier' support drones capable of finding and targeting enemies. It will enter service from 2040, by which time some experts wonder if the UK might be allowed to join as well.
Turkish Aerospace revealed its TF-X programme, also for introduction beyond the 2030s. The twin-engine aircraft is mainly designed for air-to-air missions, replacing an ageing fleet of F-16s.
Upgrades for the Eurofighter and F-35 programmes were also announced.
Airbus v Boeing rivalry will rumble on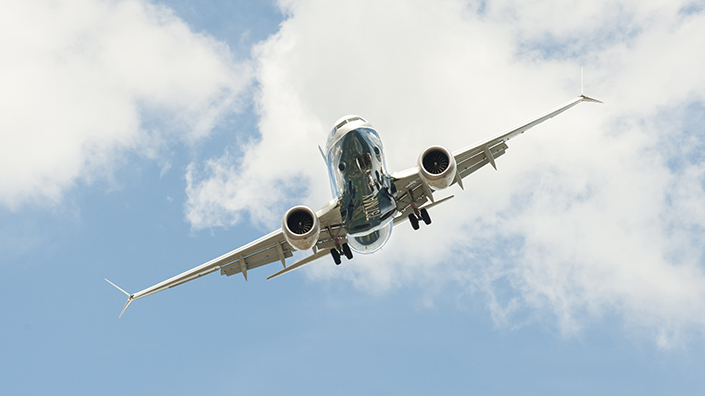 The two Boeing 737 Max crashes overshadowed the show (Credit: Shutterstock)
It is a classic rivalry up there with Apple v Microsoft, Coca-Cola v Pepsi and Blur v Oasis, but Airbus v Boeing was always set to dominate this year's show in particular.
The show initially seemed to highlight contrasting fortunes for the two companies. It opened with an apology from Boeing to the families and loved ones of the people who died in the two 737 Max crashes, which may have been caused by faulty sensors telling 'Manoeuvring Characteristics Augmentation Systems' that the planes' noses were pitched too high, prompting the systems to move the noses lower and drastically reduce altitude. However, buyers remain confident – the company sold 200 Max aircraft to British Airways parent IAG along with 92 other aircraft elsewhere.
Airbus had total orders of 383 aircraft and upsized a further 349 orders, according to Simple Flying. The European company claimed its A321XLR was the "star of the show," gaining orders for 48 aircraft, commitments for 79 more and 99 order conversions from the standard A321 to the XLR. The plane is the world's most efficient and longest-range single-aisle aircraft, an attractive combination of factors for airlines aiming to reduce emissions and stay commercially viable. Airbus is reportedly set to overtake Boeing as the world's largest plane manufacturer.