Article Source: IMechE
On 27 April 2019, the Department of Mechanical Engineering, Moradabad Institute of Technology, successfully organised a one-day seminar, entitled "Emerging Trends in Mechanical Engineering," along with Speak out for Engineering (SoFE) 2019 competition for students, with the guidance and support of IMechE India Branch.
Forty-three students affiliated to IMechE, along with 17 faculty members attended the seminar. Four students short-listed from 12 competitors, participated in SOFE competition at institute level.
Prof. A Ghosh, Director Technical, MIT Moradabad gave the welcome address. This was followed by an introductory speech by Mohd Talha Khan, ALO and Organising Secretary, on the objectives of the seminar.
Chief Guest, Mr. Ravi Shanker Kochak, Vice-Chairman South Asia Region, IMechE and retired Additional Member of Indian Railway Board delivered the keynote talk on "Importance of mechanical engineering". This included the importance of innovation and patents, code of conduct and responsibility of engineers towards society, sustainable approach by engineers, and facilities of e-library and Journals of IMechE. Mr. Kochak shared his engineering experience of developing several railway rolling stock designs through virtual prototyping.
This talk was followed by technical presentations by students. Mr. Shyam Sunder Yadav gave a presentation on " Fabrication and design of compressor-less refrigerator using IOT". This was followed by "Design and fabrication of dust collector system for Industry at Moradabad" by Mr. Jai Prakash, " Self-balancing bike to reduce accidents" by Mr. Abdul Kabir and "Thermoelectric cooling" by Mr. Ubaid Rehman. These presentations were found to be of practical use to industry and society.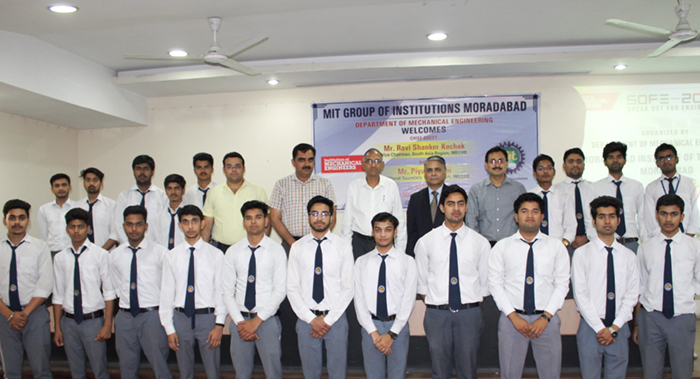 Certificates were given to all the participants and committee members by the Chief Guest. The Chairman of MIT Moradabad Mr. Neeraj Agarwal and the Director Dr. B.P Singh congratulated the students and presented a memento to the Chief Guest for gracing the event. Ms. Bhavya Nidhi, Assistant Professor, compered the overall event.
At the close, the Head of the Department of Mechanical Engineering Dr. Munish Chhabra thanked all the students and the organising committee for the successful conduct of the seminar and the first SOFE competition at the Institution at Moradabad.